Industrial Battery Chargers
1. Battery Chargers
a. Thyristor Based / SCR Based Chargers
b. IGBT Based Modular Battery Chargers
Industrial, heavy duty Rectifier Battery Charger with full galvanic insulation. Designed to supply critical DC loads with stabilized continuous supply.
Ratings :
12V, 24V, 48V, 110V, 220V or any custom made up to 2000A suitable for Lead Acid Flooded, SMF (VRLA) & Ni-Cd Batteries
Configuration of Battery Chargers
Float cum boost battery chargers
Float & Boost chargers
Float & Float cum boost charger
Dual float cum boost chargers
And many more options against client specific requirements
---
Features
- SCR & IGBT rectifier, overvoltage, under voltage protection for reliable operation in all mains conditions.
- Soft-Start for start-up over current limitation.
- Standard configuration for cost-effective, short lead time solutions.
- Easy integration with external devices like Explosion Proof enclosure, Distribution Panels, Dropper Diodes, DC/DC Stabilizers.
- Comprehensive set of communication ports, like RS232 / USB / RS485 available as on optional, for total remote monitoring.
- Support vented/sealed lead acid batteries and vented/gas recombination NiCd batteries.
- Adjustable manual and automatic charging mode for maximum flexibility on operation.
- High-Speed last generation microcontroller, for best-in-class performance and reliability.
- High personalization grade of the internal layout and user interface.
- Active parallel configuration via CANBUS connection.
---
APPLICATIONS
For Switchgear Protection
Instrumentation power supply
Telecom / Infocom
Power Plant and Substation
Railways
Fire Fighting system
D.G. set starting
Process Industries
Cement plants
Oil and gas
Petrochemicals
Steel industries
---
2. Batteries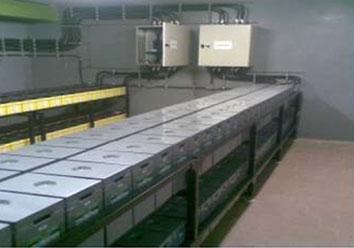 We supply all kind of Batteries like VRLA, SMF VRLA, Ni-CAD, Tubular, Plante and we do install them at site and we will undertake O&M, and site services.
---
3. Battery Sick Cell Charger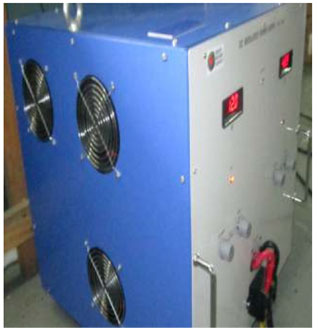 The Sick Cell Charger is basically a charger. This charger is used for servicing of 2V VRLA / 2V Tubular/2V plante/1.2V NiCAD cells in a battery bank. It can charge 1 to 5 nos 2V/1.2 cells and therefore can be used for reviving any weak cell in a large battery bank. It also has facilities to charge cells on-line without disconnecting the weak cell from the battery bank. The number of cell selection is auto / manual selection.
---
4. Battery Discharge Resistor Load Banks