Distribution Boards,
EOP Starter Panels & LT Panels
We design our Panels keeping in mind the experience gained in increased safety of personnel and equipment, ease of maintenance, installation and commissioning. The design incorporates a host of safety and convenience features. We meet the requirements of International Standards along with compliance to local standards and regulations.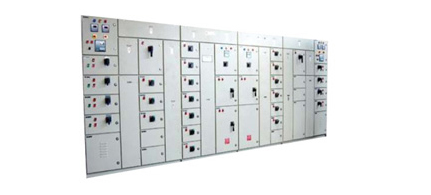 Key Features
Custom Design
Busbar ratings upto 2000A
Short circuit withstand capacity of 50kA for 1 sec RMS
Cubicle type compartmentalised construction
Free standing, Floor mounting
Extendable on both sides
Cable entry from Top or Bottom
Customer choice of switchgear Upto Form-4 Construction Front and Rear Access
Single / Double Busbar system Auto Source changeover
PLC Logic for Source changeover
Distribution Panels suitable for outdoor installations
---
Board Range
MCB Lighting Distribution Boards
MCB Power Distribution Boards
HRC Fuse Distribution Boards
LT Metering Cum Distribution Panels
Vertical Power Distribution Boards
Load Banks